The Valle Isarco, with the largest number of cities in South Tyrol, boasts a varied cultural repertoire. Three cities dominate the history of the valley: the Fugger banking dynasty reigned in
Vipiteno/Sterzing
, powerful bishops held sway in
Bressanone/Brixen
and artists nowadays realise their creativity in
Chiusa/Klausen
.
Spectacular culture all year round
The Zwölferturm tower watches over the historic pedestrianised area of Vipiteno/Sterzing, while
Säben Abbey
sits high above over Chiusa/Klausen. The city of Bressanone/Brixen is home to Tyrol's largest monastery, Neustift, while the cathedral is an episcopal see. With sculptures and panels in the
diocesan museum
, splendid stucco works in the Church of Our Lady and sparkling silver in its mines, the Valle Isarco's attractions offer insights into its culture and indeed its very soul. The city streets are also lined with shops small and large, offering fashion and culinary items and tempting visitors to look and buy in a traditional atmosphere.
Lively highlights every year (or two)
Alongside the year-round attractions, there are also those that are a delight for visitors just once a year. There are the "chestnut weeks" in the Valle Isarco's so-called fifth season, that of
törggelen
, the tasting of new wine. There are the Krampus, scary creatures who frighten naughty children (and adults) during the Christmas period. The
Christmas markets
themselves offer seasonal culture and handicrafts, while visitors to the summer festival held every two years in the old town of Bressanone/Brixen can sample food and drink in all their variations.
The Valle Isarco offers an exciting and varied series of experiences, where South Tyrol's roots can clearly be traced back to its traditions and culture.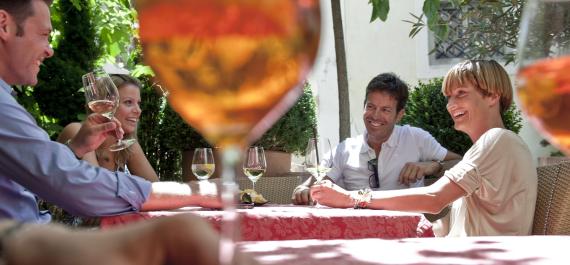 Good reasons for a holiday in the Valle Isarco
a wide range of cultural attractions in the three cities of Bressanone/Brixen, Vipiteno/Sterzing and Chiusa/Klausen
traditional culinary delights, especially in autumn during the törggelen season
historic medieval localities and buildings
Bressanone/Brixen cathedral, the Zwölferturm tower in Vipiteno/Sterzing and Säben Abbey above Chiusa/Klausen